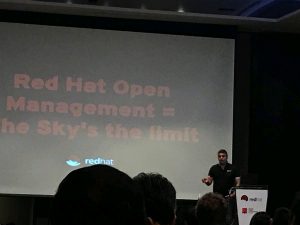 Laurent Domb is a Principal Cloud Solutions Architect working for Red Hat. He is a Red Hat Certified Architect, a puppet certified professional 2013/2014 and ITILv2 certified. Next to his technical certifications he also holds an eMBA degree in general management as well as a BSc in applied computer sciences.
His IT career started in 2002 by studying applied computer sciences at the University of Northwestern Switzerland and founding the VIBB Unix User Group (VUUG). During university, he started teaching Linux and Norman data defense and worked as a Linux admin at Wagner Kunz aktuare. After graduating, he was hired by Trivadis AG, a Swiss consultancy as a Linux / Open source consultant where he worked for different banks, insurances, and automotive industries in Switzerland, Germany, Norway, and Sweden. Laurent also lead the Trivadis IT department where he was responsible for transforming the traditional way of IT thinking into a new, modern agile IT department. Later in his career, Laurent took over the Service Engineering Department at OPITZ CONSULTING Switzerland where he was responsible for building up the Consulting Services. In 2010 he moved to America where he worked as a Linux System Engineer at OnSIp. In 2013 Laurent was hired by Red Hat as a Senior Linux consultant where he transformed multiple financial firms from traditional IT environments into agile IT environments. Today, as a Principal Cloud Solutions Architect Laurent helps customers to understand, envision and build successful cloud environments.
All the posts reflect my personal opinion.